Sorry it's been so quiet here lately – but all with good reason – we have sold the house!!! So a hectic few weeks  and months in store (first we need to find somewhere to live!) I'll be very sad to leave this amazing house but very excited to move on to the next phase in our lives.
So let's catch up here with a few more presents.
Have you come across Seedling Toys? I discovered them just before Christmas – they say;
'Seedling is all about encouraging the natural process of thinking and doing! Growing basic skills into a passion for creative thinking and problem solving.'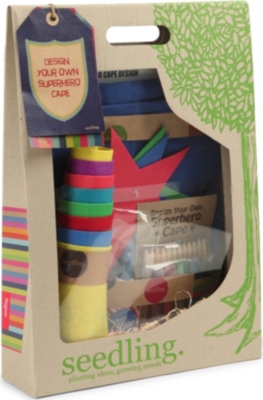 I was yearning after the Design your own Superhero Cape kit for the boys but couldn't afford it (more of that later). The kits are on the expensive side but are amazing and so stimulating for children's imagination. So I was delighted to get a Make your own Erupting Volcano in the sales ready for Gs birthday (which was yesterday). As yet we haven't had a go but the boys are very excited to try it out! I'll keep you posted. Do have a look at some of the other Seedling kits around.
When I decided not to buy the Superhero Cape kit I promised the boys I would make them one – but with everything going on just haven't had the time. So I was delighted to find Laura Sews London on Folksy. She does simple capes for only £5. So I got G a Batman one and E a Superman one. They are simple capes made from felt and the boys love them. Can't recommend them enough – hours of Superhero fun have followed from this!